About nLayer®
The nLayer Global IP Network Infrastructure is designed and operated by engineers with extensive experience running some of the world's largest Global IP backbones. This level of expertise has uniquely positioned us to deliver unmatched value to our customers, through legacy-free, low-cost solutions for clients with even the largest bandwidth requirements. By utilizing the latest state-of-the-art technology and techniques in innovative and efficient ways, nLayer sets the new standard for affordable, high quality Internet services.
Building the future of IP Telecommunications
Today, nLayer Communications owns and operates its own continuously upgraded all-optical IP/MPLS network, and maintains over 900 Gigabits per second of edge capacity to other Internet networks. nLayer has established itself as a major independent carrier in the North American and European IP arenas, providing service to many leading service providers, content distributors, and access networks.
Connected to the world
nLayer operates core routing POPs capable of delivering multiple 10 Gigabit per second circuits in twenty-four (24) major metro markets, spanning North America, Europe, and Asia. By strategically positioning core routing infrastructure near key Internet interconnections points, nLayer is able to provide lower latency service and increased bandwidth scalability, at reduced cost.
nLayer also maintains over 2 Terabits per second of interconnection capacity with other Internet networks, and delivers almost all of its IP traffic via an extensive set of peering relationships with hundreds of critical carrier and service provider networks worldwide.
Engineered for performance
One of the most important aspects in the design of a world-class network is to prevent bottlenecks which limit performance, both within our own network, and between our network and other networks on the Internet.
Some companies are willing to wait for capacity to run out before spending the money to upgrade their network, resulting in periods of congestion for weeks or even months at a time. nLayer proactively monitors traffic growth to ensure sufficient capacity is already provisioned before it is needed. This gives us unmatched capacity for handling traffic bursts, flash crowds, and special events such as stream media.
While other networks talk about adding Quality of Service (QoS) queuing mechanisms to control their congestion, nLayer provides a different form of QoS -- Quantity of Service -- so that there is never any congestion which needs managing.
nLayer Global Network Facts and Figures
Over 40 Core IP POPs capable of delivering multiple-10GbE service, in 24 major metropolitan markets.
More than 2 Terabits per second of active IP interconnection capacity with other networks.
100 Gigabits per second of trans-atlantic capacity, via seven (7) diversely routed submarine cable systems.
Over 500 Gigabits per second of diversely routed inter-city long-haul backbone capacity.
100% native IPv4 / IPv6 dual-stack network since 2003, with no tunnels or 6PE legacy infrastructure.
More than 1500 line rate 10GbE interfaces deployed network-wide.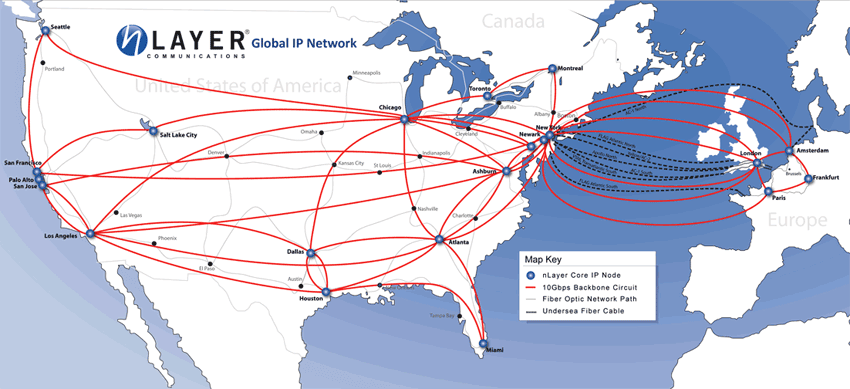 Corporate Office
nLayer Communications, Inc.
209 W Jackson Blvd
Suite 700, Chicago IL 60606-6936
United States of America
www.nlayer.net