About Level 3 Communications®
We believe in comprehensive solutions and collaboration. We deliver premier data, video and voice services — for open IP Tone capabilities to businesses and carriers. Our focus goes beyond the performance of your services to the quality of your experience. We won't design your solution without first understanding your challenges. The combination of our world-class, scalable network with our suite of innovative services equips you with end-to-end communications solutions you can rely on.
Network Level 3 Communications operates a large network of the Internet. This includes the continental US and Western Europe. It uses trans-Atlantic cables, including Yellow/AC-2, on which it owned and operated two of the four fiber pairs after the 2001 Viatel bankruptcy. Level 3 Communications has also purchased 300 Gbit/s of capacity on the Apollo cable system. It is the current owner of AS1, but it operationally uses AS3356, which as of 2007 consistently has one of the highest ranked connectivity degrees on the Internet. The company runs a content delivery network which it acquired from Savvis in 2006. Level 3 Communications delivers Netflix video and Apple Inc music content over the Internet.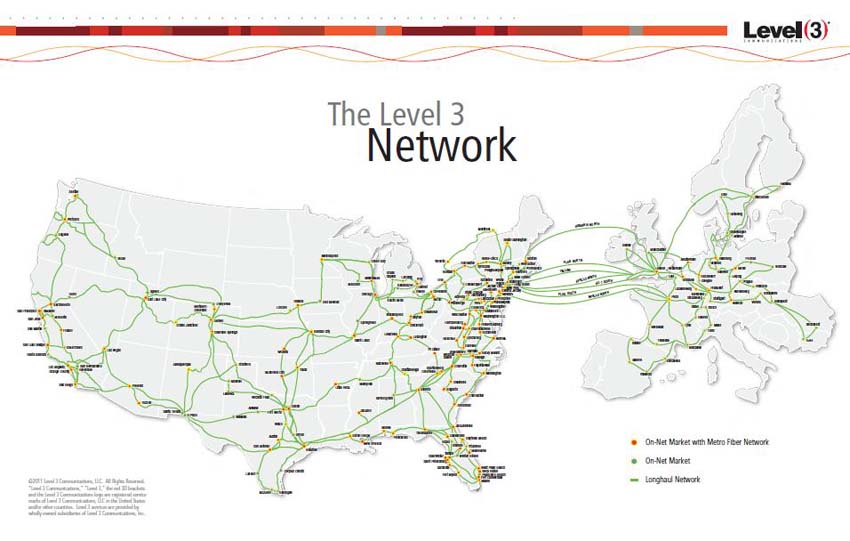 Corporate Office
Level 3 Communications, Inc.
1025 Eldorado Boulevard
Broomfield, Colorado 80021
United States of America
www.level3.com