About AT&T
The AT&T network includes extensive wireless and wired access capabilities, as well as one of the world's most advanced and powerful IP backbones.
The AT&T global backbone network carries 18 petabytes of data traffic on an average business day — the equivalent of more than 2.6 megabytes of data each business day for every man, woman and child on the planet — to nearly every continent and country, with up to 99.999 percent reliability.
Our backbone network carries a full range of IP-based services, including wireless data, business video, data and voice services, private line and wavelength traffic, as well as IP-based residential services and Internet access for AT&T's 16.7 million DSL and AT&T U-verse service customers.
Our network also incorporates Multiprotocol Label Switching (MPLS), which supports a full range of applications over a single IP network infrastructure with the highest levels of service quality.
To stay ahead of the ever-increasing demand for online video, photos, music and IP-based business applications, we recently switched on the nation's first coast-to-coast IP/MPLS network using new-generation routing technology that carries data at 40 Gbps. More than 40 percent of the IP traffic carried over the company's backbone network rides on this new-generation platform.
The AT&T global backbone network includes :
MPLS-based services available to 163 countries over 3,800 service nodes.
290,000+ managed MPLS ports for customers.
38 Internet data centers across the globe.
928,000 worldwide fiber route miles.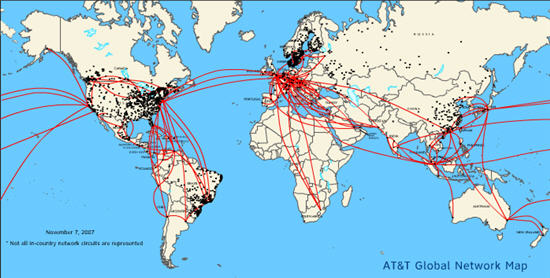 Corporate Office
AT&T Inc.
Whitacre Tower, Downtown,
Dallas, Texas
United States of America
www.att.com